A visitors guide to Greenhouses 1,3,6,
Friday, February 23, 2018
It's getting to be that time of year when we start planning what we are going to do for Spring at Blue River Nursery. Our Winter tasks are being wrapped up, and we're anxiously moving ahead.
Almost all of our plant ordering is done, so the potting schedule is being finalized.
We are cleaning Greenhouse 6 up and moving all the mature perennials that will fit over to Greenhouse 3 to make sure that the watering needs and schedule are as properly aligned as possible. Once Greenhouse 6 is empty and cleaned, it will be ready for the new perennial and shrub crops. There may be some repotted Japanese maples and dwarf conifers that end up in there. That always seems to happen!
Hosta Update! All the hostas have been moved to Greenhouse 7 to make Hosta shopping easier for all you Hosta maniacs suffering from Hostosis! There are at least 100 choice varieties in there, and probably even more! Get yourself some 'Neptune' if you don't have any! This variety really impresses us! We love the glaucus blue foliage color and the pie crust edge of the leaf. (Glaucus was a sea-god according to Roman mythology, so that's where the connection to the color blue probably started.)
We are bringing two new varieties of hosta to our inventory this year: Hosta 'Aquamarine' and 'Raspberry Sundae.'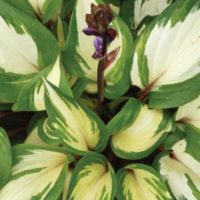 We're also starting a new crop of Hosta 'Purple Heart.' All three of these varieties are Terra Nova Nurseries' introductions. 'Marilyn Monroe,' 'Snake Eyes,' and 'Gypsy Queen' are three other varieties that I think are extra cool and are available for you to add to your collection.
Terra Nova develops new varieties of perennials through selective breeding and then mass produces the plants through tissue culture in labs. Science!
Many of the fancier varieties of Coral Bells and Pulmonaria that are seen today are products of the work of Terra Nova. Heuchera 'Forever Purple' and 'Forever Red'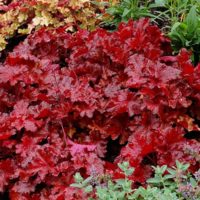 are two new varieties of Coral Bells we are growing. Heuchera 'Forever Purple' flew out of the nursery so fast it made our heads spin a couple of years back. We have high expectations for 'Forever Red!'
Pulmonaria 'Shrimp on the Barbie' is a new Pulmonaria with shrimp pink flowers that will be a cool addition to our selection of perennials for shade.
After dominating the world of Coral Bells and Pulmonaria for years, Terra Nova has developed some outstanding new varieties of Coreopsis. My two old favorites, 'Centerstage' and 'Showstopper,' are both hardy red cultivars. These two varieties have been outstanding on landscape projects and in our trial gardens. Some of the new varieties of Coreopsis we're getting from Terra Nova this year include 'Firefly,' ''Ladybird,' 'Buttermilk' and 'Honeybunch' along with the tried and true varieties we've grown in the past.
Agastache is a new species Terra Nova has been working on for the past year or two. We are now growing six of these exciting cultivars. There are four new varieties of Agastache that are in the Kudos series: Agastache 'Ambrosia,' 'Yellow,' 'Coral,' and 'Mandarin.' These varieties are noted for their dwarf habits, mildew resistance, and cold hardiness. The fifth variety of Agastache we are adding to this group is 'Blue Boa,' a more compact version of the classic 'Blue Fortune.' I am probably most excited about growing Agastache 'Morello.' This plant grows to a little over 2' and reportedly begins flowering in the Spring before all the other varieties begin blooming! 'Morello'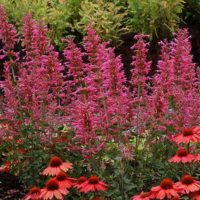 has large rose colored spire shaped flowers.
Agastache is an incredible plant for attracting butterflies and hummingbirds. The colors range from lavender blue to violet to yellow to orange! The flowers and foliage of these plants are very aromatic. Combine Agastache, Monarda, Russian Sage, Lavender, Buddleia and Dianthus if you like fragrance in your garden! All the new Terra Nova plants will be in Greenhouse 1 on the heated tables so they get a good early start!
You'll be able to find our ornamental grasses inside Greenhouse 3 this year. I highly recommend Miscanthus 'Little Zebra' as well as any of the Panicum, otherwise known as switch grasses. 'Little Zebra' is great because it has the variegated foliage with the yellow band on the green grass blade. The thing is it only grows to 2-3' which is half the size of regular zebra grass. This grass pairs well with lots of perennials and also goes beautifully with conifers. I like the switch grasses because they have such an impressive vertical habit. They just don't flop like some of the other varieties. As a result, they are great for screening while being a focal point in the garden. Ornamental grasses look stunning with hardscape features such as boulders and rock walls with conifers.
Spring is a little more than a month away! We look forward to seeing you at the nursery! If you need help assembling these plants into a great looking design or you have questions about our stock, call us at 260-244-7420! We can also be reached via email at shawnlocker@gmail.com.
We couldn't be happier with the landscaping they designed and installed!