One of the best investments, in terms of yielding the greatest returns, is improving and maintaining the landscaping around your home. Curb appeal plays a significant role in the value of a home. Are you wondering what kind of payoffs you can expect? Take a look at these figures from the April-May survey of 6,911 realtors who belong to the National Association of Realtors.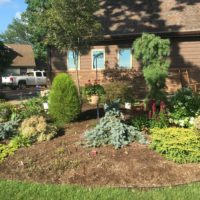 The percentage of $375 in basic lawn care expense is 267%! When you regularly apply fertilizer and weed control products, you can expect to recover that much of your cost should you decide to sell your home.
When you invest $3,000 in maintaining your landscaping by regularly mulching, mowing, pruning trees, shrubs, and any other plantings, plan on recouping 100% of your money if you were to sell your home.
Thinking of spending $6,000 on a landscape upgrade to your property? Installations of flagstone or paver walkways, flowering shrubs, perennials, and a 15 foot tree will give you an 83% return on your money in the resale of your home.
We aren't suggesting that you put your house on the real estate market. However, we can assist you when you decide to do these projects. We have a great selection of trees, flowering shrubs, and perennials to liven up your landscape. If you're thinking of a new landscape, talk to us about a new design. Incorporating walkways and planters bring a totally new image to your home. We can take care of that! Every time you pull in your driveway, you'll appreciate the value of your investment in your property.
Sent from my iPad
We couldn't be happier with the landscaping they designed and installed!